It's no big secret that I'm a huge college sports fan. Basketball and football are my favorites, and a lifelong love for Mississippi State teams of both varieties has left me well-acquainted with all sorts of game-related stresses. In fact, if you asked me how, as an adult, I'm able to remain relatively calm in the midst of a stressful situation, I would refer you to a dozen different clips on YouTube that chronicle a shocking, come-from-behind win by the Bulldogs – or a devastating, last-minute loss.
The Bulldogs have taught me some ridiculously strong coping skills, y'all.
I can't remember the exact date, but I think it was sometime back in the mid-90s when I realized that the perfect way to get through a tense basketball game was to turn down the volume of the game, plug in my vacuum cleaner and GO TO TOWN cleaning whatever rugs or carpets were in the reach of the vacuum's power cord. Over the years it's become my all-time favorite stress reducer when I'm just BESIDE MYSELF with game time nerves. And as an added bonus, the living room / kitchen / playroom / wherever I happen to be watching is oh-so-clean by the time the game is over. Win or lose.
A few weeks ago I got an email asking if I'd be interested in receiving a (free) new Oreck Magnesium vacuum cleaner to use and review, and it took me all of about 45 seconds to respond to the email with a hearty "YES, PLEASE." My old vacuum was on the brink of collapse, and since my mama and my sister have always raved about their Orecks, I thought the new Magnesium model would make a lovely addition to our family.
And oh, was I ever right.
My husband assembled the Oreck Magnesium in all of two minutes, and I decided that the perfect time for its inaugural run in our house was during a Mississippi State basketball game the next afternoon. I was watching in the playroom since I could only get the game via ESPN3, which meant that the vacuum cleaner was going to be put to the test on hardwood floors as well as a lime green shag rug.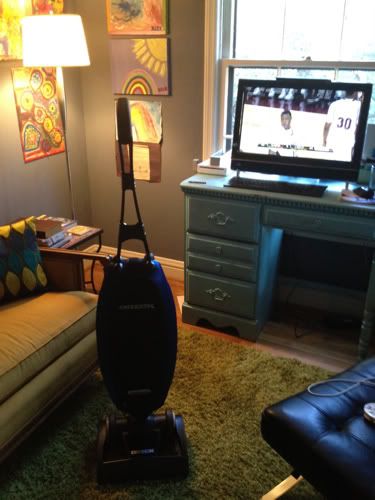 I don't know why I felt it necessary to mention the color of the rug.
Apparently I like to overshare when it comes to the various flooring surfaces in our home.
By the middle of the first half I was vacuuming like there was no tomorrow, and there were several things about the Oreck that won me over right away and continue make me want to refer to it as "The Baby."
1) I don't have to stop and adjust the vacuum height when I move from a rug to the hardwood floors. The vacuum works equally well on both.

2) The Oreck is incredibly light, which means that I don't have to wrestle with it when I'm trying to turn corners, vacuum couch cushions, etc. If I wanted to, I could lift it over my head with one hand. Which I don't. BUT I TOTALLY COULD.

3) Much to my surprise, the Oreck is really powerful. I can pretty much control it with the tip of my finger, which is a whole new experience for me when vacuuming that shag rug.

4) Because it's so small, the Oreck easily fits in between the bottom of my kitchen cabinets and the floor. I don't have to sweep and then vacuum – I just vacuum. Love that.
And in addition to all that stuff, the Bulldogs beat Alabama on the Saturday when I first tried the vacuum. So I think it's probably a given at this point that I AM A FAN OF THE ORECK.
Storage is a big plus with this vacuum cleaner, too. In the past I've stored our vacuum in the hall closet, but the Oreck Magnesium is so small that it fits in a little corner of our laundry room – without sticking out in the middle of the floor and without needing to be moved whenever I open our pantry cabinets.
See? Doesn't that just make you sixteen kinds of happy?
In all seriousness, it's so great to have the vacuum on the end of the house where we need and use it the most. It's handy if I need to clean up crumbs at the breakfast room table or if I accidentally spill sugar all over the kitchen floor.
That last thing is an embarrassingly common occurrence, by the way.
The bottom line is that I'm absolutely thrilled to have the Oreck Magnesium, and I think you'll love it, too. If you've ever lugged a vacuum up or down stairs, the Magnesium is going to be a dream come true for you. It's lightweight, compact and powerful – which, in my opinion, is pretty much the best of all worlds as far as a vacuum is concerned.
If you'd like to enter for a chance to win an Oreck Magnesium of your very own, it's oh-so-simple. Just visit Oreck.com, do a little reading, then come back here and leave a comment telling us one thing that you learned about the Magnesium.
If you'd like an additional entry, then just mention the giveaway on Twitter (making sure to tag @oreck) or Facebook, then come back here and leave a second comment with a link to your tweet or post.
I'll leave this giveaway open until next Thursday, February 8th at noon central, at which point I'll draw for a winner using random.org. The winner will have 48 hours to respond to my notification email. If the winner doesn't respond to my email within 48 hours, I'll draw for another winner.
Happy Oreck-ing, y'all!
The giveaway winner must be a resident of the U.S. 48 contiguous states.
Oreck Corporation provided the prize for the sweepstakes but is not the sponsor of the sweepstakes.
This giveaway is now closed.