This past Saturday morning I went to Panera so that I could try to get some writing done. Please make note of the phrase "try to" – because what I didn't know at the time was that there was a huge soccer tournament in Birmingham this past weekend, and starting about 11:00, one soccer team after another filed into Panera for lunch. I was at a table in a little alcove by the cash registers, and at one point I counted 22 other people who were attempting to share that little alcove with me. Some were sitting, some were standing, some were crouching next to tables, and while everyone was very nice and well-behaved and etc., there were moments when I thought that it sure was going to be a shame when I experienced a bout of claustrophobia in the middle of a bunch of 11 year-old boys who just wanted to eat some turkey sandwiches and hang out for a little bit before their next game.
WELCOME TO BIRMINGHAM, YOUNG SOCCER STARS. PLEASE DO ENJOY THIS PUBLIC DISPLAY OF MY CRAZY.
When I got home later that afternoon, I cooked supper, visited with my people – and while the little man read what I'd written earlier in the day (listen. that child is going to be our family historian before it's all said and done.), I tried to re-work the beginning of a chapter in my head. I had an idea, but I needed some input – and I thought the Twitter might be able to help.
So Saturday night, I asked the Twitter a question:
And y'all? The answers?
Oh my goodness. If I could, I'd carve them into some sort of Southern Mamaw Monument. They are priceless.
Here's a little sampling.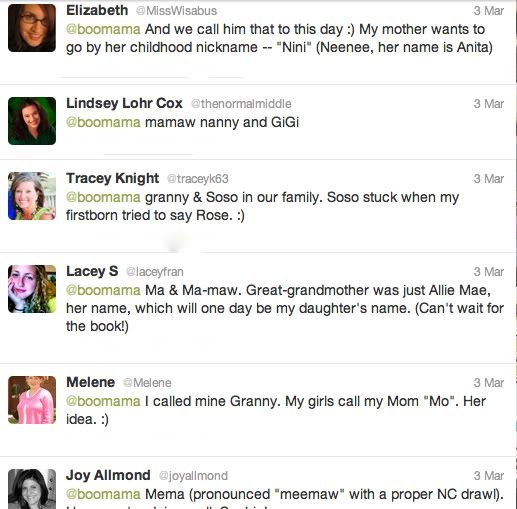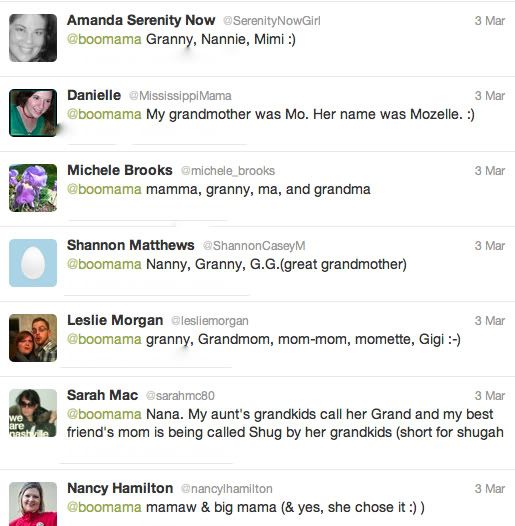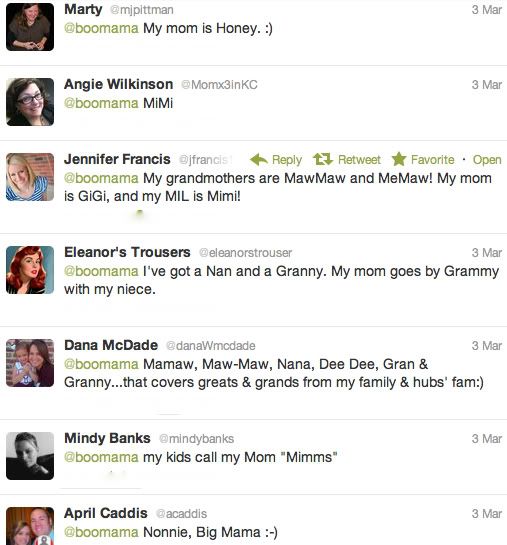 Is that not some Granny Goodness? The nicknames made me so happy – and that's not even half of them.
Mary Lauren was one of the people who replied, and she mentioned that she'd written a post on grandmother names. After I read it I realized that I don't remember any grandmothers who went by "Grandma" when I was growing up. There was the occasional "Grandmother," but mostly I knew MiMis and Mamies and GaGas and MeMaws. I'd never thought about it until the Twitter helped me out.
So what about y'all? What did you call your grandmothers?
And better yet, if you're a grandmother, what do your grandbabies call you?
By the way, I'm hoping that I'll get to be Shug or Honey one day.
Maybe even SoSo.
But definitely not BooMamaw.
Which means that's exactly what I'll be.