I am a big-time creature of habit when it comes to jewelry. Almost every single day I wear hoop earrings, my wedding rings, and that's-it-the-end. Occasionally I'll wear a bracelet, but I usually end up taking it off after a couple of hours because it bugs me when I type. I like necklaces, but unfortunately I'm not gifted in the area of knowing which necklaces and shirts look best together.
So hoop earrings and wedding rings it is. Day after day after day.
For the last four or five years, I've favored one particular pair of hoops. I found them at a shop in Homewood (Homewood is a community here in Birmingham, and you should definitely go shopping there if you're ever in town), and they were $7. SEVEN AMERICAN DOLLARS. I bet I've bought them at least five different times (to replace lost or broken earrings), and the last time they were EIGHT American dollars. So obviously they are very fancy.
But I love them. And they go with everything.
I just can't say enough good things about them. Their self-esteem must be through the roof.
But a few weeks ago, I was sitting in Panera, minding my own business except for the fact that I was doing some full-on, full-out people watching, and I spotted a pair of earrings that captivated me right away. I thought about using the Google to see if I could locate a similar pair online, but then I decided to walk up to the counter all casual-like and ask the girl who was wearing said earrings if she remembered where she bought them.
I'm pretty sure that approaching strangers to ask where they purchased their accessories means that I've officially turned in to Martha. FOR YEARS we have given her a hard time about stopping someone in Target to ask where they got their umbrella or striking up a conversation in the check-out line to ask if someone's scarf might be available in turquoise or making a beeline for a stranger in the Belk shoe department to ask if they've ever run across a version of the shoe they're wearing in a slightly flatter heel but with more of a pointed toe, A POINTED TOE!
Well, apparently I learned from the best, because before you could say, "SIMMER DOWN, MARTHA," I was on my feet and walking up to the counter and telling a darlin' 20-something girl how much I loved her earrings and BY THE WAY, did she happen to know where I could find a similar pair?
The girl knew her stuff, and within all of a minute she told me that she'd found them at Engraving by Carol in Mobile, they had a website, and I should definitely check them out.
I'm pretty sure that I found the website and ordered the earrings before that cute girl had even fixed herself some coffee.
The earrings arrived last week, and I think they're so cute. They're a nice change-o-pace from the hoops, and as an added bonus, they're monogrammed – which is every Southern girl's love language.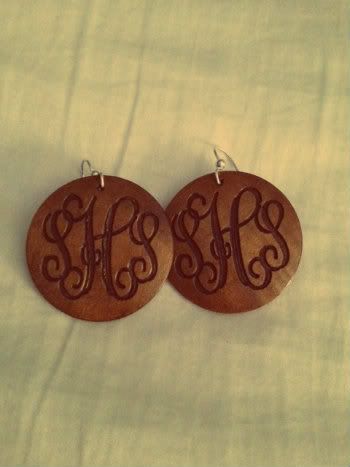 So that's about all that's going on around here. I've (mostly) worn the same pair of earrings for over four years. Then I bought some new earrings that are a huge step-out for me because they're not hoops. Clearly I am wild, crazy, and living on the accessories edge.
Do you ever get in a jewelry rut, too?