Normally I set aside a pretty good chunk of time on the weekends to work on writing stuff. So far it's been the best way to keep making forward progress without adding to the busy-ness of the week (work and school and practices and whatnot seem to keep us hopping). But one day last week, when D told me that we had two soccer games scheduled for Saturday, I realized that I just needed to go ahead and surrender to a no-writing weekend. We already had tickets to see State and Alabama play baseball Friday night, and I didn't want to spend the rest of the weekend feeling crazed because I was scrambling to find a three- or four-hour window to finish a chapter that I feel like I've been working on for approximately seven and a half years.
It's only been about a month, truth be told.
But still. I'm pretty sure that the chapter is trying to kill me.
Anyway, I didn't try to push and rearrange and finagle like I normally do when I'm struggling to find a little patch of writing time. I just told myself that this weekend was off-limits – no writing – and do you know what?
IT WORKED.
Granted, that chapter is still trying to kill me – but that is okay. Because we had the best, most relaxing weekend.
Late Friday afternoon we drove over to Tuscaloosa for State's baseball game. Here are some small, blurry pictures that do a very poor job of capturing what a fun night it was.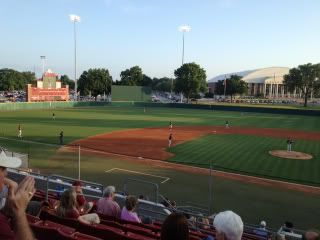 No, really. It is MY JOY to share my gift of photography with the Internet.
Please feel free to contact me if you'd like to have these stunning images printed and also framed.
The little man took a buddy with him to the game, and they had so much fun. They were worn out by the end of the night, but when it comes to young'uns, that's sort of the goal, isn't it?
Hallelujah.
Saturday morning we slept late, and I actually got about an hour's worth of writing done while Alex was reading. At some point I need to write a post about the sheer volume of books that have overtaken our house – he tucks them away in every corner and every cushion – and it thrills his daddy and me to pieces. For the longest time I worried that he wouldn't love to read, but that is officially not the case. At some point down the road there may be a slight tendency to hoard books, mind you, but we'll cross that bridge when we get there.
We spent Saturday afternoon burning up on the soccer field, and since I was busy reapplying sunscreen and trying to stay hydrated, I didn't take any pictures. At one point I was so desperate for shade that I took my chair and pretty much sat in the woods, but I am happy to report that the sun didn't get any of us. I give all the credit to God and Neutrogena Sport Face. It is a sunscreen wonder. I carry it in my purse at all times in case of a sunscreen-related emergency.
Saturday night I took Alex and a friend to a high school play-off soccer game while D went to see The Avengers. Once we found a place to sit in the stadium, I looked out at the horizon, and I'm telling you what: sometimes the sky in Birmingham just takes my breath away.
Some guys we know (and love) were playing in the game, and it was so fun to watch them and cheer for them. Alex has inherited my Sports Crazy gene, and when the game went into overtime, he had to get closer to the action.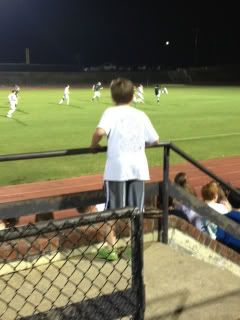 That right there is a child whose mother thinks that volume and proximity can alter the outcome of a game.
I believe my work here is done.
Our team lost in double overtime, and I don't mind saying that I'm still carrying some lingering sadness as a result. BECAUSE THAT'S NORMAL.
Last thing.
This afternoon we went to Costco (note to self: NEVER AGAIN on a Sunday afternoon), and I found a book that has completely captivated me.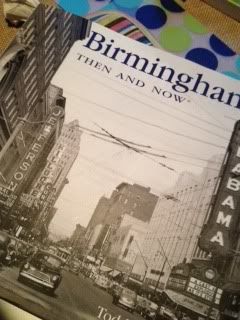 Since I didn't grow up here, reading about what used to be where and how certain parts of town were developed is fascinating to me. I love this place so much, and every single day I am mindful of how grateful I am to live here.
Does that sound weird? That probably sounds weird.
Anyway, late this afternoon I sat down and read and soaked up a little bit more of the history of this town that I am so thankful to call home. It was the perfect way to end a weekend that reminded me over and over again that we have roots here. We have people here. For this season of our lives, this is our place.
And as corny as it sounds, it's so much more than I ever dreamed.
Have a great week, everybody.