I promise that I'm going to get to the giveaway part in just a second. But first I want to tell you a quick story.
About a year and a half ago Melanie and I were in Nashville to do some stuff for dotMOM, and a friend of ours invited us to her house for supper on the last night we were there. I knew the second we walked in the door that the supper was going to be seventeen kinds of memorable, primarily because I caught a glimpse of homemade pasta draped over clothes hangers in the kitchen.
I mean, I may have spent my whole life in the deep-fried Deep South, but I have sense enough to know that homemade pasta is always a promising sign.
There were four or five other people at supper that night, and Lisa Harper was one of them. Lisa was in charge of making the salad, and I will NEVER forget what she served us. She used gorgeous little Heirloom tomatoes from her garden, along with fresh basil, goat cheese, some sort of fig balsamic reduction that I have tried (and failed) to replicate, and she topped off everything with the a pinch of the most glorious sea salt I have ever tasted. It was one of those dishes that was so simple, so elegant, and so unbelievably delicious that not a single one of us could stop talking about it.
Well, apparently I went on and on and on about the salad – especially about the texture of that sea salt – because when Melanie and I got ready to leave a few hours later, Lisa walked in the kitchen, picked up her jar of sea salt, and pressed it into my hand right before I walked out the door. She insisted that I take it, and ever since then, whenever I see Lisa, hear her, read something that she's written, or try to copy that salad she made, I think, Well, there's sweet Lisa Harper – she'll give you the salt right off of her back.
[AND THUS CONCLUDES OUR "QUICK STORY."]
[WE WILL NOW SEGUE' INTO THE GIVEAWAY PORTION OF THE POST.]
[ALSO: I MIGHT NEED TO PRACTICE MY TRANSITIONS.]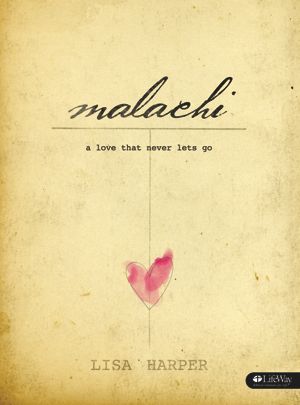 Last year Lisa released a new Bible study called Malachi: A Love That Never Lets Go, and it is all about the never-ending mercy of God. So often we can fall into thinking that God has forgotten about us or has finally – FINALLY – gotten completely fed up with us, but in Malachi we see how God pursues His people and continues to love them, even when they're (we're) at their (our) most rebellious.
Lisa is such a gifted communicator – so wise, so funny, so real – and she's also a Bible scholar. Those two qualities make for some mighty fine teaching, and Malachi would be a perfect study for a small group at your church or for a eight-weeks-o-Bible-fun with two or three close friends.
If you'd like to win a DVD leader kit for Malachi: A Love That Never Lets Go, here's what you need to do:
1. Leave a comment on this post.
2. The end.
I'll leave comments open until Friday night. As soon as I close comments, I'll draw for a winner using random.org.
And listen. If I could throw in one of those salads that Lisa made, I totally would. However, I can't really recommend eating a salad that has traveled to your home via the USPS. I have some odd hang-ups about things like, you know, refrigeration. And whatnot.
Y'all are going to love this study – hope your week has been great so far!
This giveaway is now closed. I'll notify the winner via email sometime on Saturday.