Thankfully – blessedly – our house no longer smells like charred tomatoes. Since I was out of town this past weekend, I don't know when exactly the stench lifted, but I was very relieved that the smell of singed meatballs didn't knock me over when I walked in the back door this afternoon. That was some serious cause for praise.
I spent the weekend in Atlanta with Melanie, by the way. We planned our trip a sweet forever ago, and oh, was it ever timely and fun and wonderful and refreshing and etc. I'm pretty sure it's gonna make it into my 2013 Top 5 Favorites. Delightful all the way around.
Now.
Before I forget, here's the winner of the last giveaway.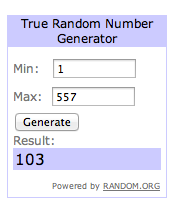 Congratulations, Jody! I'll send you an email in just a little bit.
As for this last giveaway – well, I hardly know where to begin. Because in so many ways it is the culmination of all my bloggy hopes and dreams. Perhaps I should explain.
This giveaway has three parts. The first part of the giveaway is my book, A Little Salty to Cut the Sweet, which officially releases on Tuesday and that is all fine and good but TRUST ME not nearly as special as the rest of the giveaway.
The second part of this giveaway is a staple in almost every Southern cook's kitchen. I for one couldn't live without mine – it is the best all-purpose pan under the sun.
(It's a 12-inch cast iron skillet.)
(If you've never used one, you need to understand that it'll change your whole life.)
(And your cornbread will never be the same.)
The third part of this giveaway is almost too good to be true. It is more, in fact, than I ever dreamed. But apparently, if you write a book that has the phrase "fifteen pounds of bacon" in the subtitle, there are wonderful people out there who will step right up to the plate and offer to give away – GET READY – fifteen pounds of bacon.
You read that correctly.
FIFTEEN POUNDS-O-BACON.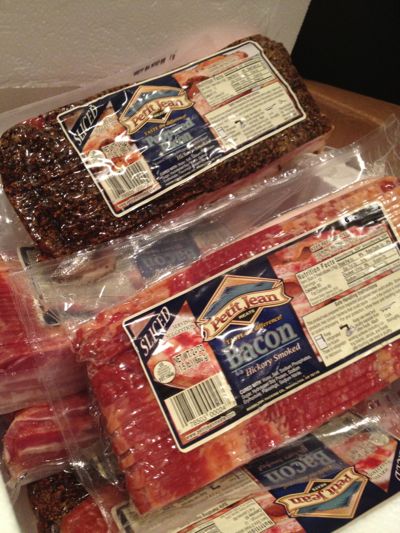 Somebody give the Lord a handclap of praise.
The bacon is courtesy of Petit Jean Meats, an Arkansas company that makes, among other things, incredibly delicious bacon (I recently found out that their bacon is the official bacon of the Dallas Cowboys, AS WELL IT SHOULD BE). Petit Jean Meats sent me a whole bunch of bacon after my friend Stephanie (we actually went to high school together) told them about my book title, and no kidding: the day all that bacon showed up at our front door may have been the happiest moment in all my years of blogging. Their peppered bacon has become the hands-down favorite in this house, and I am so excited to be able to share it with y'all. Because, well, BACON.
And not only that: EXCEPTIONALLY TASTY BACON.
SO. If you'd like to enter to win a very fancy prize that consists of my book (which, compared to bacon, you know, WHATEVER), a 12-inch Lodge cast iron skillet, and FIFTEEN POUNDS-O-BACON, just leave a comment on this post. If you'd like, you can also sign up for the Petit Jean Meats email newsletter or like their Facebook page, and if you do either of those things, come back here and leave an additional comment for a second entry (you can just say "PJM social media" or something like that in your second entry).
I'll close comments on this post tomorrow night, and I'll select a winner using random.org.
Hope y'all have a great week – it's been so much fun doing these giveaways with you!
This giveaway is now closed. I'll announce the winner in a couple of days!