Maybe the most important aspect of this episode is that Melanie has some very exciting news about her eyelashes. And honestly, why would any of us care about any other topic when clearly there have been some VERY IMPORTANT eyelash developments since the last episode?
We do, however, talk about a bunch of stuff before we get to the eyelashes. We answer some of your questions about marriage and parenting (keep in mind that the verdict is still out on whether we have the foggiest idea what we're talking about re: parenting), and we also dig into a little discussion about body image (FOR SURE a first for us). Then we segue' into, you know, eyelashes and hair and the fact that one of us has paralyzing fear of repetitive circles. AS YOU DO.
Enjoy, y'all!
You can click here to listen. Or here. You can even listen right here on the blog.
You can also listen on Stitcher or Google Play (should be posted any day now).
And if you're on the Facebook, well, we are, too.
We'd love for you to subscribe on iTunes, and we'd be honored if you'd leave us a review.
Here's where you can get more info on the stuff / products / places we mention:
Comedians in Cars Getting Coffee with Ali Wentworth
The Antelope in the Living Room – Melanie's book about marriage
A picture of Melanie's eye that will hold special significance as you listen: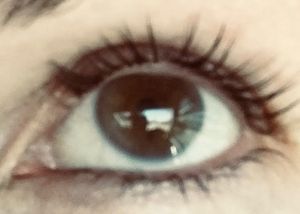 Kerastase Volume in Powder Backcomb Effect Finishing Spray
Trypophobia – Sophie's deep-seeded fear of repetitive circles (CLICK AT YOUR OWN RISK, PEOPLE)