Now before I tell you this story, I want you to know that while there are parts of my life that occasionally cause some Deep Angst, the size of our family is not one of them. The five year-old who sleeps down the hall has brought us more joy than we could have ever imagined, and as far as I'm concerned any additions to our family would be gravy. Or icing. Or the cherry on top. Or whatever food-themed metaphor you prefer, really.
Bottom line: I'm pretty much blessed beyond measure no matter how the rest of my baby future pans out – whether that means I'm the mama of one, I get pregnant again, or we adopt.
So.
With that perspective firmly established.
When Melanie and I were in Las Vegas a couple of weeks ago, we had a mighty deep conversation one night at supper as we shared some exceedingly average beef fajitas. We thoroughly examined a variety of topics, including but not limited to Mistakes Of Our Twenties, Qualities We Enjoy In A Shoe, Can You Believe We Met On The Internet, and Being Married To Strong-Willed Men, aka Our Husbands, They Have Some Opinions.
Eventually our conversation turned to Will There Be More Children, because sometimes it's fun to think about possibilities, sort of like I enjoy thinking about what I might sing on American Idol if, you know, I could actually sing and I weren't about eight years past the age limit. Plus, it's always fun to talk about hypothetical babies because RAWR RAWR SWEET SMOOSHY BABY YUM YUM I EAT YOUR CHEEKS.
I mean, just because I'm okay with whatever direction my baby future takes doesn't mean I wouldn't be way past overjoyed to have at least one more round of this-here level of adorableness:
RAWR RAWR SWEET SMOOSHY BABY YUM.
So Mel and I talked about all the wonderfulness of babies – the wonderfulness of Caroline and Alex in particular – and by the time supper was over, I thought we might have to swing by Baby Gap "just to look." Oh, our ovaries were all aflutter – I don't know any other way to put it.
When we got back to our hotel, we were still talking about our young'uns as we walked down the hall to our room. The conversation continued as I tried to unlock the door (the pesky electronic key, it is my nemesis), and when I finally opened the door, this is what we saw, I'm not even kidding: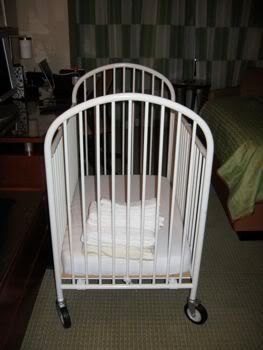 Y'all. We froze dead in our tracks.
And after a solid twenty second pause – during which we both tried to absorb the fact that THERE WAS A BABY BED IN OUR ROOM – Melanie screamed, "IT'S A SIGN!"
And then I screamed, "SOMEBODY'S GONNA GIVE US A BABY!"
Because, you know, that would be completely logical.
Mel called the front desk and explained that there had obviously been some sort of crib mix-up since we were not in fact traveling with any infants or toddlers, and about fifteen minutes later someone came to our room and took away the baby bed.
We stood in the center of the room all wistful-like for about three seconds.
Then we laughed until we cried.
And in keeping with the evening's theme of pretend babies, we proceeded to have us some pretend cravings as we enjoyed a large bag of trail mix from the Walgreens along with a couple of packs of plain M&Ms.
We're all about some realism, people.
And apparently, we're all about some crazy as well.