Archives for September 2008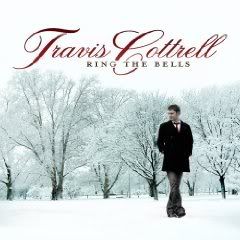 When I was in college, I would break out my cassette (YES. CASSETTE. AMEN.) of Amy Grant's A Christmas Album just as soon as Halloween was over. It was my Official Soundtrack during November and December road trips, and "Heirlooms" was always a sure-fire recipe for Tender Introspection since I was a terribly sophisticated nineteen year-old and all.
A nineteen year-old driving a Buick Regal that would sputter to a dead stop if the accelerator wasn't pressed at all times, and yes, that includes at red lights and stop signs.
Anyway, my point is that Amy Grant's first Christmas CD is the gold standard of Christmas albums for me. Other Christmas albums have joined her in my Christmas music hall-o-fame over the years – like Harry Connick Jr.'s and James Taylor's, for instance – but I'm a pretty discriminating Christmas music listener. I want worship and reverence and fun wrapped up in one musical package, and I don't want want a hint of corny in the mix. But other than that I'm not picky at ALL.
Ahem.
Last year, not too long after Melanie and I dragged Travis Cottrell into the vortex of our lives by obsessing over his wife's jeans, he mentioned that he was about to start working on a Christmas album. He also mentioned that his producer was going to be Brown Bannister, a name I immediately knew because I'd seen it printed on the top, right-hand corner of every piece of Amy Grant sheet music I tried to play on the piano when I was a teenager. Since I knew that Brown Bannister produced Amy Grant's Christmas albums, I figured that Travis' Christmas CD was bound to turn out pretty well.
However, I had no idea that when I heard Travis' Christmas CD for the first time, I would get all teary-eyed and fan my face and feel so unbelievably proud of our friend. The CD is absolutely, positively, completely, stunningly beautiful. Christmas music perfection. We've been listening to it in our house since Labor Day (YES. LABOR DAY.), and on at least four different occasions David and I have had in-depth conversations about how great it is. Every single day the five year-old gets in the car when I pick him up from kindergarten and asks if he can hear "Frosty." Every single morning I have some church with my iPod when I listen to "In The First Light." It is, plain and simple, a wonderful CD.
Ring the Bells will be released next Tuesday, October 7, and there's no question that you're going to want to add it to your Christmas music collection. But if you'd like to try to win one of ten autographed copies of the CD before it's released, then here's what you need to do:
1. Leave a comment telling me your favorite Christmas song.

2. Pause and think for a moment about how this is pretty much the EASIEST GIVEAWAY EVER.
I'll close this giveaway next Monday and announce the winners next Tuesday.
And just FYI: Travis is so stinkin' humble and self-deprecating about this whole Christmas CD thing that it's sort of unbelievable. In fact, we have debated for weeks about how many comments this giveaway will generate, and I have contended that we're gonna hit the hundreds. Travis' official prediction is 46.
I have a feeling y'all are going to prove him oh-so-wrong.
Make it a merry one, internets.
This giveaway is now closed.
Here are the five lucky (PROVIDENTIAL) winners of Matt Wertz's great new CD Under Summer Sun (along with a fayncee t-shirt):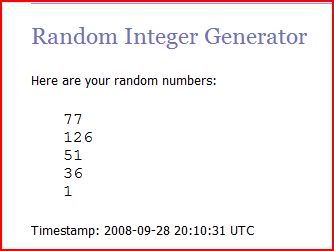 1 – Shane
36 –One Beloved Sister
51 – diXymiss
77 – Catherine
126 – Deanna
Winners, if you'll send me an email with your name and mailing address, I'll forward that info to the nice people who are shipping your prizes.
And if you didn't win but would still like to own the CD, you can find it right here or right here.
Congratuations, everybody!
All righty. I'm going to be totally up-front with you, internets.
Earlier this week I came thisclose to cancelling this Before & After bloggy shin-dig. But I felt guilty about doing that because I know several of you have worked hard to meet deadlines and finish projects and do all the things that I thought I would do when I first posted about this little carnival way back at the beginning of the summer.
But several things have gotten in the way of all my fancy home-beautification plans. First and foremost on that list would be me. I have big ideas and think I have plenty of time and don't take into account that, in addition to my day-to-day responsibilities with my family, I have things like travel commitments and work deadlines that also demand my attention. Plus, for the last couple of weeks we've had some family members staying with us while they've had some medical stuff going on, and really, nothing says, "WELCOME! HOPE YOU FEEL BETTER SOON!" like a house that reeks of paint fumes.
Which is to say: I decided to postpone the painting.
I guess it's just that the squeaky wheel gets the grease. And in light of everything that we've had going on around here, the color of the paint in our bedroom just hasn't been very squeaky.
However.
I did, in the spirit of the festivities, take care of a LITTLE something that's been driving me cuckoo the last few weeks, and that something is my closet. It's been driving me insane because it was 1) messy 2) unorganized and C) messy and unorganized, so I took everything off of the shelves and hung up all the stray bits of clothing that were strewn about, then I threw out some junk and put everything back together again.
Sort of like Humpty Dumpty, only not.
Anyway, here's the before: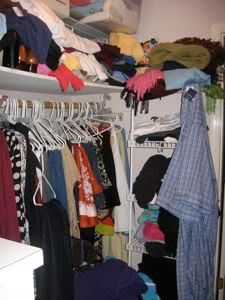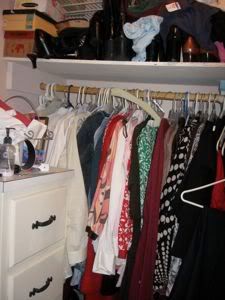 And here's the after: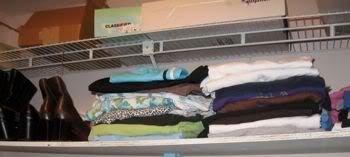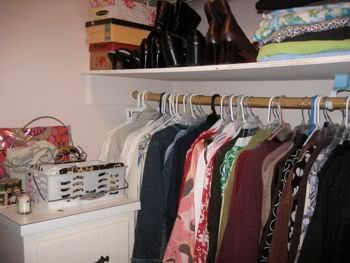 STUNNING, ISN'T IT?
Nonetheless, there you have it. It's certainly not the dramatic ENTIRE ROOM TRANSFORMATION that I originally envisioned, but it's progress. And I'll take it.
I can't wait to see your progress, so if you have a project you'd like to share, just leave a link to YOUR SPECIFIC POST – NOT YOUR GENERAL URL – in the Mr. Linky below.
Thanks for playing along, everybody!
Well, I found tonight's episode of "The Office" to be delightful in most parts, a little frustrating in others, and just plan weird at times (um, hello? Toby? In the hospital? Sort of bizarre). However, there were plenty-o-memorable moments.
1. Dwight hammering the apple into the vending machine.
2. "What up, 212?"
3. "Under my Ange-rella, ella, ella, hey, hey…"
4. "Dangerous. Tacky. Sharks. Haunted."
5. "I'll marry you in the eye of a hurricane in the middle of a snowstorm on top of a monsoon," OH GOD BLESS HIM.
6. Dwight kicking the cheesecake.
7. Ryan's back. And Kelly Kapur likes him.
8. "…and you burned over a thousand calories walking home…PHYLLIS NANCE, LADIES AND GENTLEMEN."
9. "Andy Bernard does not lose contests. He wins them, or he quits them. Because they're unfair."
And finally:
10. WHO KNEW A QUICK STOP WOULD BE THE SIGHT OF PURE MAGIC?
So. What did y'all think?
About thirty minutes after Alex went to bed last night, his daddy and I heard what sounded like a little crying going on in his room. And sure enough, when we checked on him, he was wide awake. He said that he couldn't sleep, and for whatever reason, he seemed pretty upset about that whole not-sleeping thing.
I was overcome with empathy for my little man, so I crawled in the bed, snuggled up beside him, and sighed deeply as he rested his head in the crook of my shoulder.
We laid there quietly for about few minutes, and I thought about the countless times I've comforted him in the middle of the night. I thought about when he was three and getting used to his room in our current house. I thought about when he was two and in a "big boy bed" for the first time. I thought about when he was a newborn and I'd rock him back to sleep after a middle-of-the-night feeding.
And I remembered that when he was a baby, I could always rub my hand very gently across his forehead – back and forth, back and forth, back and forth – and after a few minutes, it was impossible for him to keep his eyes open.
I looked over at him and saw that he was still awake. So I whispered:
"Hey, buddy. You know what?"
"What, Mama?"
"When you were a baby, I would rub your forehead to make you fall asleep. Do you want me to try that now?"
"Sure, Mama," he said. "I would love that."
So I rubbed his little forehead – back and forth, back and forth, back and forth – and I marveled at how my "baby" is growing up. His legs stretch out almost to the end of a double bed now. His face is angular and thin. His hands look like a boy's, not a baby's.
I was so caught up in my reverie – and right on the verge of getting teary-eyed, I might add – that I jumped just a little bit when Alex's voice interrupted the silence.
"Mama?" he whispered.
"Yes, baby?" I answered as I pulled him closer.
"Um, you know what?"
I waited for him to finish his thought, halfway anticipating that he was about to tell me how much he loves me, how grateful he is that I'm his mama.
"I don't think I can really sleep anymore when you rub my head."
Oh.
Well then.
Duly noted.
Reverie over, I reckon.