I'm not an expert on anything. That's why you rarely see any how-to posts in this little neck of the bloggy woods. Oh, I could probably score pretty high on some sort of Bravo reality programming quiz, but as you might imagine, the demand for how-to posts on that particular skill is practically nonexistent.
(FINGERS CROSSED, though, that my running mental list of the Real Housewives' finest moments will come in handy one day. Maybe I'll get to provide the correct spelling of Bethenny's name in a heated round of Trivial Pursuit. As Ramona would say, I'd be all over that like white rice.)
(I fear I've shared too much.)
(Anyway.)
Weekend before last we went to my hometown to see the family and celebrate my parents' birthdays. Sister and her hubby were planning to be there, too, and I thought it might be fun to cook a big birthday supper. Without going into all the details of what's been going on with our extended family over the last few months, I'll just say that so far 2010 has been a HUMDINGER, and given that, Mama's and Daddy's birthdays seemed like a great excuse to get the cousins together and eat and laugh and trust that better days are ahead.
And that is exactly what we did.
I am notorious for wanting to cook 15 different dishes when I'm cooking for company, but I really tempered that tendency for the birthday dinner because 1) I wasn't cooking at my own house and 2) I tried to do as much as I could ahead of time so that I could actually talk to people and lo, maybe even enjoy myself. And do you know what? The plan worked beautifully.
So here's what we had for supper. There were probably about 25 people by the time a few latecomers stopped by.
Asian Pork Tenderloin
Shrimp and Wild Rice Casserole
Party Salad (it doesn't have a name – it's just what I throw together when we have company)
Ree's Rolls (I used dill instead of rosemary)
Pound Cake with Blue Bell Homemade Vanilla Ice Cream and Fresh Strawberries
And because I did everything in stages, it wasn't stressful AT ALL.
(Disclaimer: before you read this next part, you should know that I recognize that there was probably a better, more efficient way to pull off the dinner.)
(Perhaps my crippling lack of confidence is yet another reason why I never write how-to posts.)
(Also: I feel like I need to be giving away free chocolate to those of you who have actually stuck around long enough to read this thing.)
(Regardless, here's my strategy. Though I'm sure there's a better strategy, and it's probably yours.)
(PLEASE BRACE YOURSELVES FOR THE SOARING NEW HEIGHTS OF BORING THAT AWAIT YOU IN THE FOLLOWING PARAGRAPHS.)
Thursday afternoon I made a triple batch of marinade because I was cooking 6 tenderloins (I bought Tyson plain tenderloin 2-packs). I put 2 tenderloins in a gallon Ziploc, then covered with marinade. All three Ziplocs went in the refrigerator. Later that afternoon I made the first of two pound cakes.
Friday afternoon I made another pound cake. Then I made the shrimp and wild rice casserole (5 boxes of wild rice, cooked, 5 cups of freshly grated sharp cheddar cheese, 5 cans of cream of mushroom, 5 Tbs. Worcestershire, 2 lbs. of medium frozen shrimp, thawed). I divided the casserole into three Pyrex dishes, covered them, and put them in the refrigerator.
Late Saturday morning I packed everything in coolers – including the frozen roll dough. Sister was already at Mama and Daddy's, so she went to the grocery store and got all the salad stuff (hearts of romaine, red onion, fresh broccoli, mandarin oranges, almonds and dressing), coffee fixins and ice cream.
Saturday afternoon we made it to Mama and Daddy's. Two hours before supper, I put the roll dough on cookie sheets and let it rise in a warm oven. Then I chopped up everything for the salad. About 45 minutes before supper – when the roll dough was out of the oven – I cooked the tenderloins (they only take 25-30 minutes). Then I cooked the casseroles, which came out of the oven just as people were starting to arrive. Sister and Paige set out all the china and glasses and whathaveyou.
While everybody visited and watched Kentucky bust my NCAA bracket to pieces, I put the rolls back in the oven.
Once the rolls were ready, everybody served their plates buffet-style, and I sat outside with Sister and Paige and ate supper and visited. Paige helped me fix and serve dessert while Sister started to tackle the kitchen, and I think we made a good team. We actually cooked for a crowd and enjoyed ourselves, too.
WHAT A NOVEL CONCEPT.
By the way, here's the birthday boy and the birthday girl.
And some sweet cousins.
And some of Mama's daffodils, which really have nothing to do with anything, but they were blooming like crazy that weekend.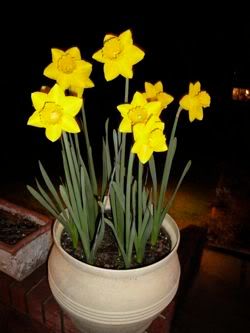 So. What about y'all? Any tips or tricks for staying sane when you're cooking for a crowd? Any reliable, crowd-friendly recipes you'd like to share? Do you break out the paper plates or polish the silver? Do you cook everything yourself, or do you sometimes get a little help from the Colonel or Popeye's?
Please note: I will always – ALWAYS – support getting a little help from Popeye's.
OH YES MA'AM I WILL.