This is a compensated review by BlogHer and Pop-Tarts.
I have to admit that when I first heard about the new Pop-Tarts® Ice Cream ShoppeTM Vanilla Milkshake flavor of Pop-Tarts, I was intrigued. After all, we love the Pop-Tarts in our house. Our little guy wouldn't eat anything except Brown Sugar Cinnamon Pop-Tarts for breakfast when he was three, and I personally have a soft spot for the Pop-Tarts-as-dessert option. So needless to say, the Vanilla Milkshake variety sounded promising.
And do you know what? They are TASTY. The combination of the pastry crust and the vanilla flavor makes for a Pop-Tart that reminds me, honestly, of a really flavorful pie crust. That's not to say that the Vanilla Milkshake flavor wouldn't be great for breakfast or for a snack (I have a seven year-old who will vouch for the snack-time deliciousness), but the first time I tried it I thought, "Ooooooh – this would be so good as the crust for a dessert."
And that, my friends, is how Vanilla Milkshake Sundae Pie was born.
It's so simple to make – and the kids in your life will clap their hands when you brighten up their 4th of July with this special dessert treat.
Okay. They may not really clap their hands. But they'll love you forever. And that is even better.
Pop-Tarts Vanilla Milkshake Sundae Pie
4 Vanilla Milkshake Pop-Tarts
2 pints vanilla ice cream (any flavor would work, actually), softened
1 pint fresh strawberries, hulled and halved
1 container chocolate syrup
1 container Reddi-Whip (optional)
Arrange Pop-Tarts in bottom of 8×8 casserole dish (you'll have about a half of a Pop-Tart left – I like to sample the leftover half, purely in the interest of quality control, you understand). Spread ice cream on top and smooth out to make a level surface. Cover and return to freezer for 10 minutes. Remove from freezer, then cover with strawberries in whatever pattern you'd like. Drizzle with chocolate syrup. Cut and serve, then squirt a little Reddi-Whip on top. Makes 8-10 servings.
Oh, it is festive. Look!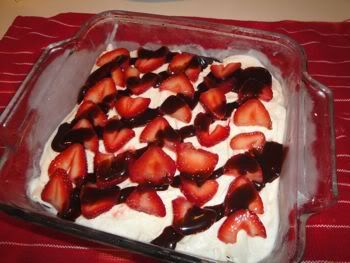 Granted, I was in a little bit of a hurry when I made this one, but I think it was a hit with the family, don't you?
If you'd like to enter to win a $100 gift card courtesy of BlogHer, just answer one simple question in the comments:
What's your favorite dessert to serve on the 4th of July? Homemade ice cream? A fresh, juicy watermelon? A flag cake?
I can't wait to hear all of your great ideas, and be sure to check out the BlogHer.com special offers page – you have 9 other chances to win!
You can find the official rules right here, and you can find all sorts of great dessert ideas on the official Pop-Tarts Sprinklings site. If you're wondering just how creative you can get with Pop-Tarts, you need only look at the Sprinkly Ice Cream Bites.
Happy 4th, y'all!