Today D and I celebrated our 14th wedding anniversary. Well, I mean, we didn't really celebrate today because he spent all day at work and I spent all day doing fun things like going to the dentist and also Walmart, but tonight we got a babysitter and went out to my favorite sushi place. The dinner was a very sweet, selfless gesture on my husband's part since he typically prefers for meat to be 1) cooked and 2) not wrapped in rice, but he survived. In fact, he actually ordered some COOKED scallops and said that they were delicious. So see? It all worked out.
(Okay. I just deleted a super-long tangent about marriage that is probably best suited for another post.)
(In fact, I'm going to paste it into a brand new post at this juncture.)
(Please pardon me while I attempt to GRAB HOLD OF THE BLOGGY REINS.)
(So. I'm back. And now I will continue.)
After dinner we went to get ice cream, and then we ran by Walmart on the way home because I decided that my day wouldn't be complete unless I could walk through those sah-weet automatic doors ONE MORE TIME before the clock struck midnight. I know it probably seems pretty lame that we would spend part of our anniversary night walking past big ole ROLLBACK signs, but don't most married couples end up at either Target or Walmart at some point during a date night? Or maybe Lowe's?
Anyway, I needed some cheese and some hairspray (though please rest assured that I have no intention of using these items together), but on my way to the health and beauty aids section I got sidetracked by a big display that was standing in the center of the aisle. It was one of those deals where I didn't really notice it at first, but as soon as I got past it I thought, Hold on. Did that say what I think it said?
So I backed up the cart, took a closer look, and OH MY WORD AMERICA HAS IT COME TO THIS?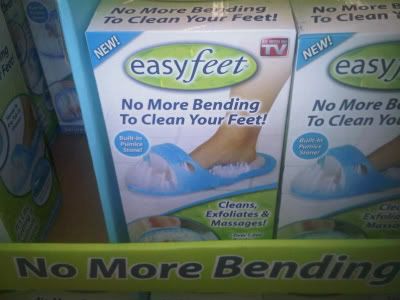 I mean, seriously? We can't be bothered to bend over and wash our own feet anymore?
For thirty seconds or so I stood there all indignant and incredulous, but before I could get too comfortable on my high horse, I remembered how the simplest tasks became very difficult when I was 7, 8, 9 months pregnant. And then I thought about how elderly people or people who have certain kinds of injuries or illnesses have to be really careful when they're in the shower. And then I thought about the built-in pumice stone and how delightful it would be to massage my feet and shower at the same time, and I am here to tell you that I went from outraged consumer to BONA FIDE SUPER FAN in no time at all.
I didn't buy the Easy Feet, mainly because my husband had just taken me out for a lovely dinner and I hated to say, "HEY, LET'S GET ME SOME OF THESE FAYN-CEE SHOWER SHOES" – but I thought about it. Oh yes I did. And now I'm curious: are you ever tempted to buy the As Seen On TV stuff? Or better yet, have you bought something? Do you have any Ginzu knives in a kitchen drawer? A Chia pet on the windowsill above your sink? A Magic Bullet in the cabinet next to your food processor? Or – heaven forbid – a Shake Weight propped up next to a stack of exercise DVDs?
Just thinking about reading your comments makes me happier than you will ever know. Because FINGERS CROSSED that somebody out there owns a Bump-It and is willing to share her personal Bump-It experience.
Giddy-up, y'all.