So this year I decided that I was only decorating for Christmas with stuff that I really, really love. And I certainly don't mean to imply that in the past I've decorated with all sorts of stuff that I, you know, hate, because what in the world would be the fun of that, MY WORD. But I think you probably know what I mean. Which is why I'm going to fight the urge to overexplain WITH EVERYTHING IN ME and show you some pictures now.
All righty, here's our tree.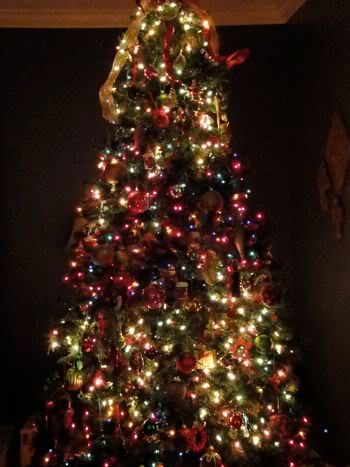 This year we decided to go CRAZY and use colored lights instead of white lights. WE'RE OUT OF CONTROL!
We actually had to replace the lights on our tree because all the original lights (our tree was pre-lit) were BROKE DOWN when we (and by "we," I mean the other person in my marriage who is not me) set up the tree and plugged in everything. My husband actually spent the better part of a day taking the old lights off of the tree – apparently they were welded to the branches with some combination of screws and super glue and molten metal – and the fact that our marriage actually survived Light Removal Day is proof that God is still in the business of miracles, my friends.
Once David put on the new lights, I started decorating the tree – and I think I subconsciously tried to turn our Light Removal Day frown upside down by only using our very favorite ornaments.
Like these fun Christmas balls that my mama gave me last year.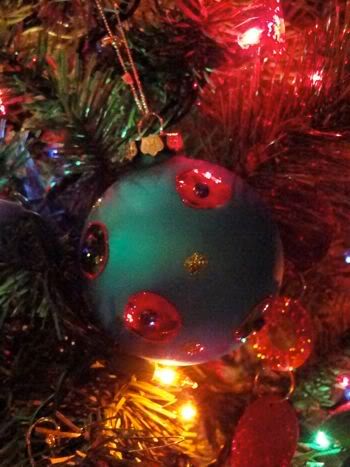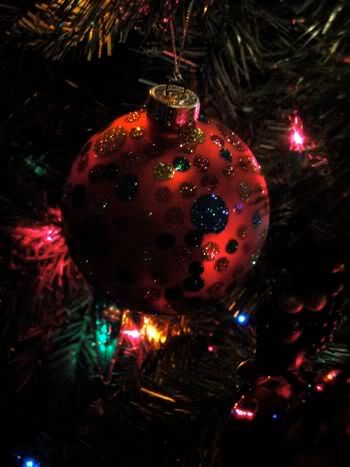 And these cute Starbucks ornaments. Because Starbucks is a deeply meaningful part of our lives. PLEASE DON'T PITY US.
I kept the living room pretty simple, too – just some wreaths, a couple of my favorite Christmas items and a rosemary tree that MAKES ME SO HAPPY WITH ITS YUMMY SMELLINESS.
I know. I didn't even pick up for y'all. I should be so ashamed. In fact, my mama may not even be able to show her face at church next Sunday because SHE'LL NEVER GET OVER THAT WRINKLED THROW ON THE COUCH. EVER.
Nonetheless, here are a few of the things that make me smile in the living room.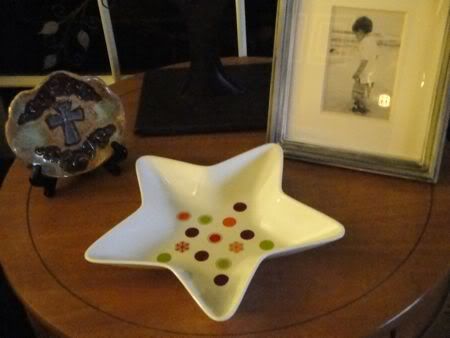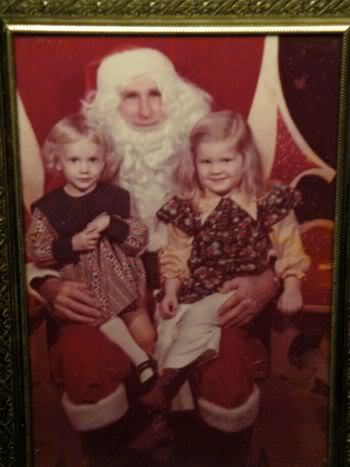 I was four. My friend Laura was three. AND APPARENTLY SANTA FORGOT HIS MUSTACHE.
In the kitchen I made a quick little centerpiece with Christmas balls in my favorite colors.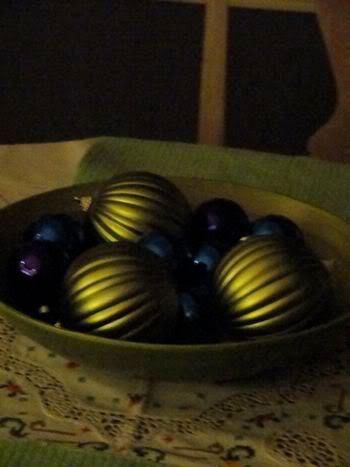 Our Christmas card tree is in the office that's right off of our breakfast area, and it keeps that part of the house feeling pretty festive.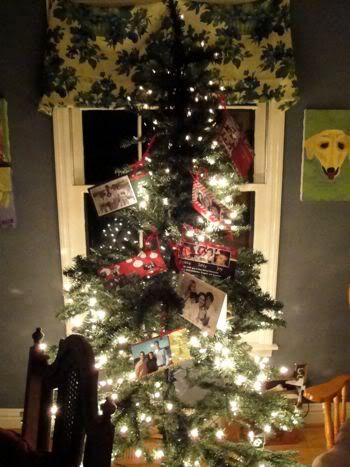 Especially a couple of days before Christmas when it looks like this.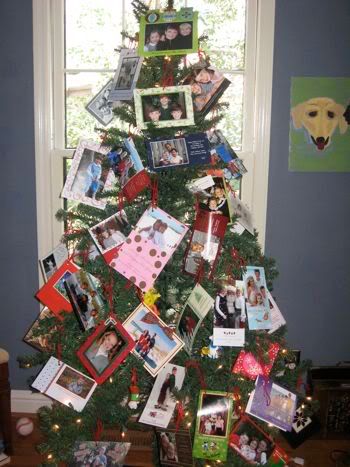 The Christmas card tree has become one of my very favorite traditions in our house. I LOVE IT. And when Mama and Daddy get to our house Christmas Eve, the first thing Mama will do is pull up a chair right next to the card tree and STUDY those cards. Then she'll ask me 800 questions about how everybody on the tree is doing.
At least, that's what she'll do if she's recovered from the horrible My-Daughter-Didn't-Pick-Up-Her-Living-Room-Before-She-Put-A-Picture-Of-It-On-The-Internet ordeal.
Y'all might want to keep Mama in your prayers.
My dining room looks pretty much like it always does.
But a few days before Christmas, it'll look like this.
And every single time my little boy and his friends stomp through that part of the house, I will cringe and wait to hear the sound of something breaking. It's a very special tradition as you can imagine.
Speaking of the boy, he has a new tree in his room, mainly because the old aluminum tree – which was SO fun and vintage and sparkly – was not going to survive another year in a little boy's room. So this year we went with something a little more, um, STURDY.
And as always, a few of the little man's crafts made their way into the decor – I think these are my most favoritest decorations of all.
So there you have it. I'm tempted to say that we've really scaled back with the decorations this year, but then I remember that we have three Christmas trees, so I think I'll just offer you a cookie and wave bye-bye.
(Here is where I should insert a picture of me waving bye-bye, only wait, I DON'T HAVE ONE.)
Merry Christmas, everybody – and don't forget to check out all the other homes on Nester's Tour!
But the angel said to them, "Do not be afraid. I bring you good news of great joy that will be for all the people. Today in the town of David a Savior has been born to you; he is Christ the Lord. This will be a sign to you: You will find a baby wrapped in cloths and lying in a manger." Suddenly a great company of the heavenly host appeared with the angel, praising God and saying, "Glory to God in the highest, and on earth peace to men on whom his favor rests." – Luke 2:10-14