A few days ago David helped Mother / Martha / "Martie" move into a garden home (oh, the stories. THE STORIES.), and when he made it back to our house Sunday afternoon, he walked in the front door with a special treat.
GIN!
Oh, I kid. Kiddy McKidderson Kid.
Because do you know what's really inside that box?
CHINA!
I know that might not seem very exciting to a lot of people, but let me tell you: I am such a fan of pretty dishes. Apparently I inherited the loves-pretty-dishes gene from my mama, and I have been crazy about china since I was in high school. It makes me laugh that I can be so sentimental about, you know, PLATES, but I totally am. I remember all the dishes my mama has ever owned, and if I ever happen to run across a full set of the everyday pattern that she used when I was a little girl, I'll probably cry just a little bit.
Now I feel like I should go hide. Perhaps I've overshared.
Anyway.
Since Martha's new house doesn't have quite as much storage space as her old one, she was very sweet to give me 12 place settings of a china pattern that David's daddy bought when he was stationed overseas back in the 50s. I can't even tell you how much I will treasure it. The pattern is Noritake LaSalle, and I LOVE IT. It's so different than anything else I have – I think it's delicate and retro and modern all at the same time.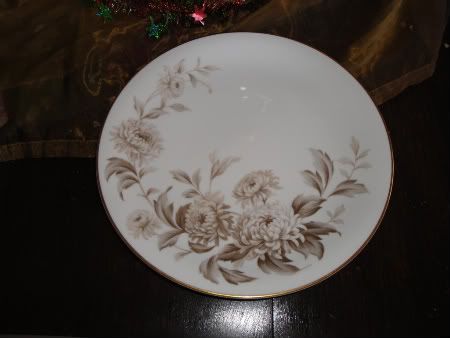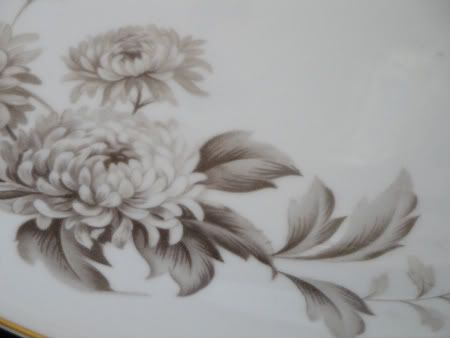 By the way, I'm pretty sure that you're officially a grown-up when you enthusiastically snap a picture of a covered vegetable bowl.
But DID YOU NOTICE THAT FUNKY HANDLE? ISN'T THAT THE GREATEST THING YOU'VE EVER SEEN?
It took me all of five minutes before I started trying to figure out how I could mix the new-to-me pattern with dishes I already have. My fine china is Lenox Eternal, and I love how it looks with the LaSalle salad plate. I think they'll look sassy on top of some charger plates I bought a few years ago at Old Time Pottery – they were a whopping $1.50 a piece, I think.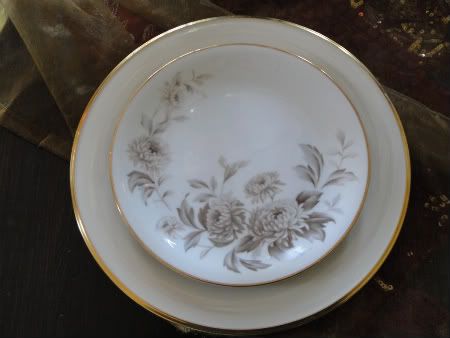 Won't they all be so purty together on Christmas day? Is it wrong that thinking about all the mix-and-match china makes me a smidge giddy? Do I need to go hide again?
Maybe I need to go hide again.
I love the cups and saucers, too – even if the cup will only hold about two tablespoons of coffee. Because those two tablespoons of coffee will look fab next to that kicky handle, now won't they?
So what about y'all? Do you use your "good" dishes on Christmas day? Do you have a favorite Christmas pattern? Do you like to mix and match the dishes you have? Or do you save yourself the headache of having to wash a bunch of dishes and just break out the paper stuff instead?